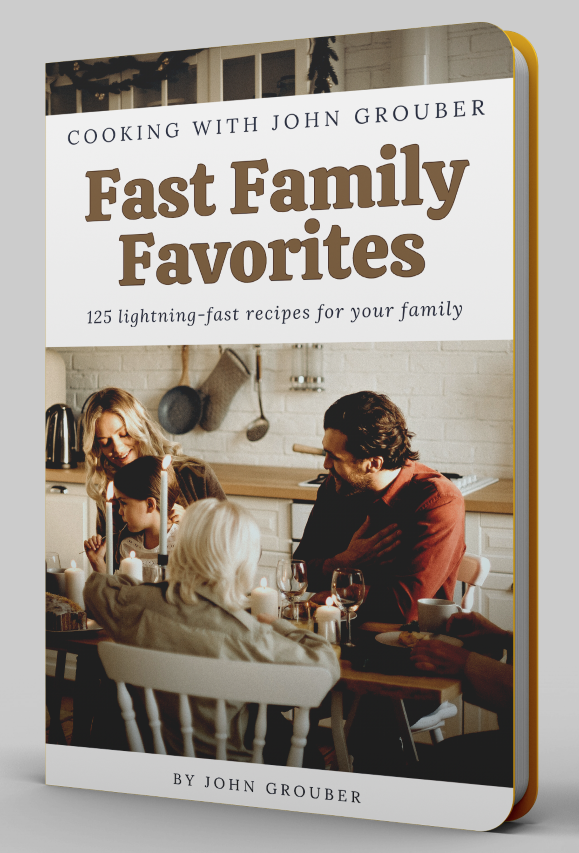 COOKING WITH JOHN GROUBER:
FAST FAMILY FAVORITES
INTRODUCING: Fast Family Favorites! Rediscover the magic of family dinners with 125 lightning-fast recipes that'll make everyone's taste buds dance!
Remember the good old days of family dinners lasting 90 minutes? Now they're down to just 12! But don't worry, Fast Family Favorites is here to save the day, bringing scrumptious, wholesome meals to your table in a snap!
Wake up to lip-smacking breakfasts or whip up One-Skillet Wonders, all ready in 30 minutes or less! With clever shortcuts, fewer ingredients, and minimal clean-up, you'll have more time to treasure those precious family moments.
Here's a sneak peek into this fantastic family cookbook:
Family-Friendly: Dishes that'll have everyone begging for seconds!
Time-Saving: 15-Minute, One-Pot, and 5-Ingredient recipes to breeze through weeknights.
Get ready to be the master of quick, easy, and delectable meals that your family will adore. Fast Family Favorites is your ultimate guide to making every dinner a heartwarming feast!